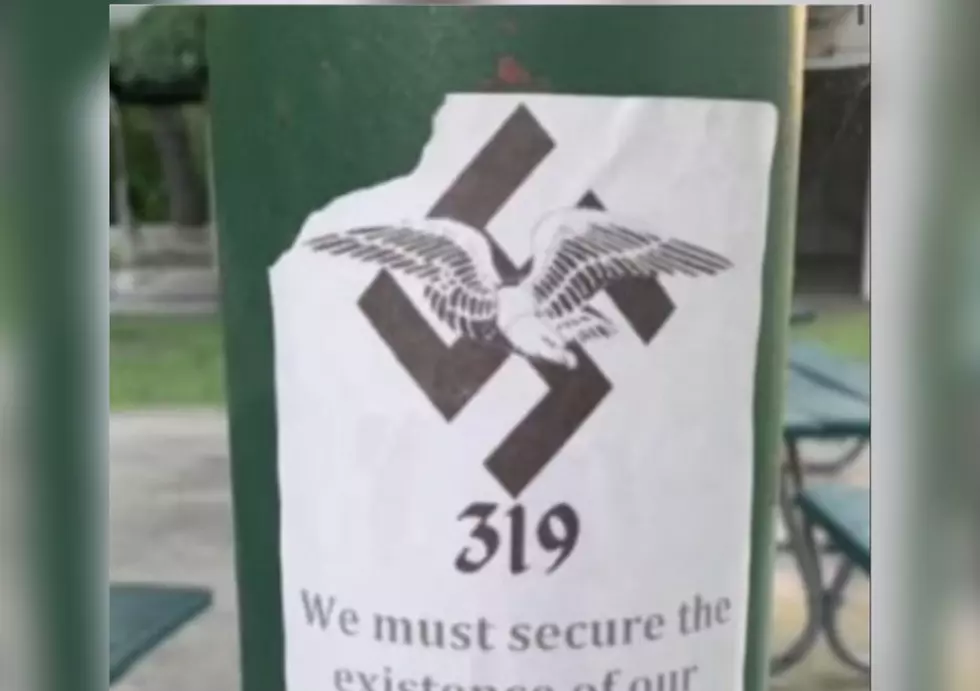 Neo-Nazi Posters Are Popping Up In Oelwein
Courtesy of Iowa Starting Line via Tik Tok
Oelwein has been getting national attention this month, but not for a good reason.

Earlier this month, posters began popping up in Oelwein City Park for a group called Crew 319. These flyers include the Nazi swastika with the words, "We must secure the existence of our people, and a future for white children."
Crew 319 describes themselves as a "nationalist, socialist, activist group in Iowa."
These posters are perpetuating the racist and anti-semetic "great replacement" theory. According to the Immigration Forum, this theory, "states that welcoming immigration policies — particularly those impacting nonwhite immigrants — are part of a plot designed to undermine or "replace" the political power and culture of white people living in Western countries."
The national spotlight was put on Oelwein after photos and videos of the posters quickly went viral.
The Council on American–Islamic Relations, a a Muslim civil rights and advocacy group came out with a statement earlier in the week saying,
"We condemn this attempt to spread racist hate and intimidate the residents of Oelwein. We urge law enforcement authorities to investigate this incident and to bring the perpetrators to justice."
According to the Community Newspaper Group in Oelwein, local officials are currently investigating this situation. In a statement to the newspaper, Oelwein Police Captain Ron Voshell said,
 "The Oelwein Police Department's mission is to safeguard freedom by preserving life and property, protecting the constitutional rights of individuals, maintaining order and encouraging respect for the rule of law by the proper enforcement of law. It is also our mission to protect the public through proactive law enforcement and to promote a safe and secure environment for all."
For more information about this incident, make sure to watch the video from Iowa Starting Line down below!
Spirit Lake Might Have Most Expensive Home in Iowa
If you have $10 million handy then I might have the perfect house for you. This home in Spirit Lake might be the most expensive home in Iowa.
Largest Skatepark In America is in Iowa
A work in progress for several years, last spring saw the opening of Lauridsen Skatepark in Des Moines. Measuring up at 88,000 feet long, this is the largest skatepark in the entire country.