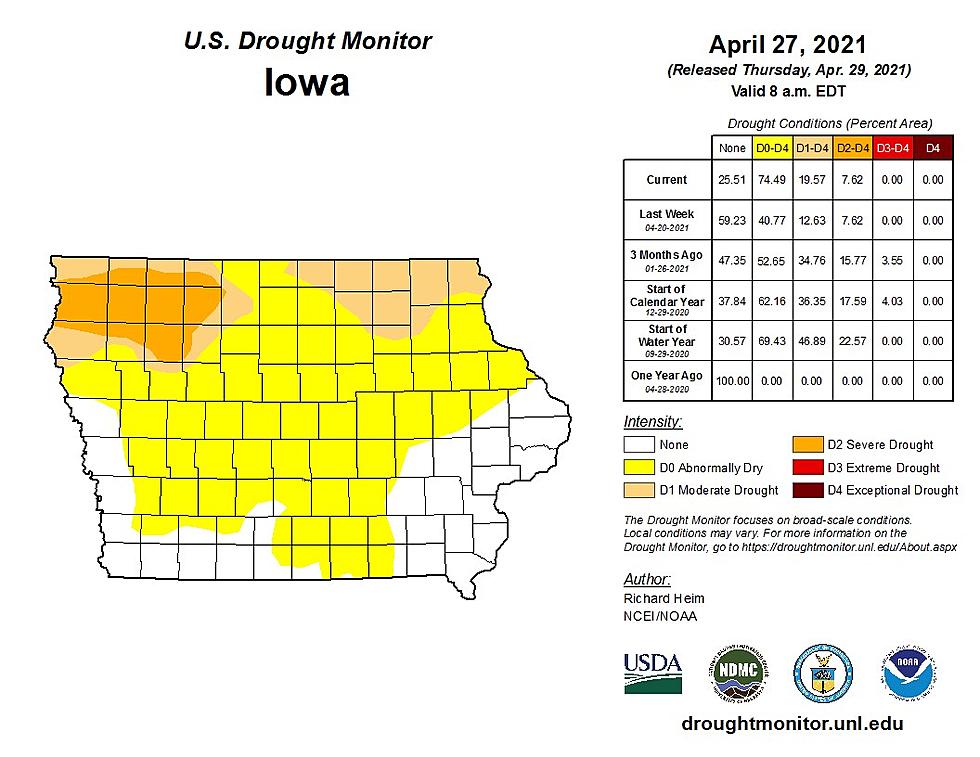 Iowa Drought Conditions Felt Sitewide
Richard Heim - NCEI/NOAA
April is now in the past, and unfortunately for many Iowa farmers, it ended on a very dry note. Radio Iowa reports the state's drought conditions are actually getting worse in some areas, and not better.

Most of Eastern and Northeastern Iowa remain abnormally dry
Iowa's state State climatologist Justin Glisan was quoted in the Radio Iowa report as saying,
The vast majority of the state is now considered abnormally dry
Despite sounding concerning, 'abnormally dry' or 'D0' as it appears on the map from the National Weather Service, is the least severe drought condition. The far northern/NE Iowa counties including Howard and a majority of Winneshiek, are experiencing more severe D1 or, 'Moderate Drought' conditions.
Rain is heading our way
There is some relief in sight as April didn't bring as many patented April showers as advertised. May begins with decent-to-good chances of rain 3 out of the first four days. The overall month outlook calls for higher than average rain, which in this case would be a welcomed reality.
More good news for Iowa farmers: April improved
From the middle of April up to the end of the month, there was a large portion of the state in D3, or extreme drought condition. The latest map from NOAA and NCEI show no D3 conditions in any part of the state.
12 Stupid Iowa Laws Still on the Books
Iowa's Top 10 Most Common Snakes