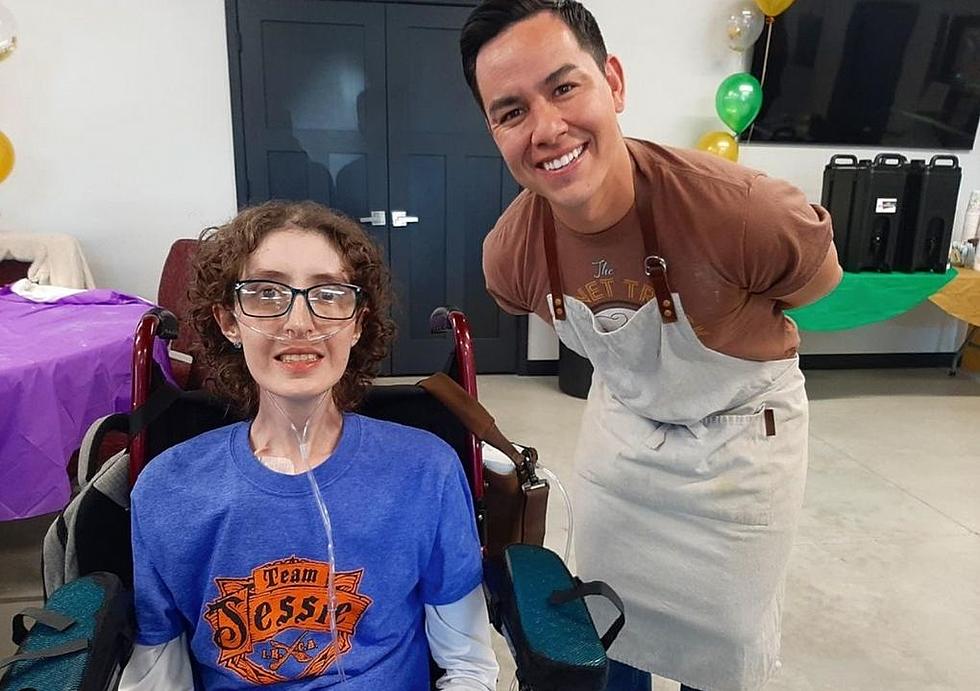 Watch Chef FINALLY Make Iowa Cancer Patient's Dream Come True
@bautistud via IG
Watch Chef FINALLY Make Iowa Cancer Patient's Dream Come True
Thousands of miles and donations later, one chef got to travel to Iowa to help a terminally ill woman check a major item off of her bucket list.

We previously reported the story about a chef and his thousand-mile journey to help a terminally ill young woman from Ames, Iowa.
Chris Bautista is a chef and owner of a food truck based in Los Angeles. His business on wheels is called 'The Beignet Truck' and he's using his gift of baking to help someone check something very important off their bucket list.
Jessica, a terminally ill woman from Ames, put out a video in February sharing a MAJOR bucket list item.
"I've always wanted to try beignets from New Orleans," the Iowa woman explains. "I don't think I'll ever get down there, so if someone out there could possibly send them!"
Chris has made his living making these pastries fresh in Los Angeles inside of his food truck. He's served celebrities like Flo from Progressive and Kristin Schaal from Bob's Burgers.
Bautista was sent the initial video with Jessica's request and quickly agreed to come out for this special mission. He shared his tearful response to the request on social media.
While he didn't necessarily have the funds to turn this wish into reality at first; after posting a GoFundMe page called 'Bring Beignets To Jessica' and going $3,000 over his initial goal, he was able to help young woman check this item off her bucket list.
Hy-Vee actually hopped on board to help this chef bring beignets to Jessica as well! They worked with Chris to pull off the event. It turned into a sweet, little community-focused celebration of Jessica.
The tent that this whole thing took place under was decorated from head-toe in the quintessential Mardi Gras purple and gold. People were all gathered around the young woman as she listened to a real New Orleans-style band perform jazz for her.
There was some drama on social media directed at Chris about where all of the extra money that he earned from GoFundMe would go. He ended up directly giving Jessica ALL of the extra donations.
For those who follow Chris on Tik Tok, you might have caught the Tik Tok live of the event. In it, he cheerfully serves up those tasty-looking beignets to Jessica. Her reaction was priceless.
We'll make sure to keep you updated on this story as it continues. Both accounts say that they will be posting the video of Jessica enjoying the sweet VERY soon.
Snake Alley in Burlington, IA
Burlington, IA is just one hundred and fifty miles away from Waterloo and a hundred miles away from Cedar Rapids is one of the most see attractions for tourists. Ripley's Believe It or Not! voted Snake Alley as the #1 Odd Spot in America.
Largest Skatepark In America is in Iowa
A work in progress for several years, last spring saw the opening of Lauridsen Skatepark in Des Moines. Measuring up at 88,000 feet long, this is the largest skatepark in the entire country.