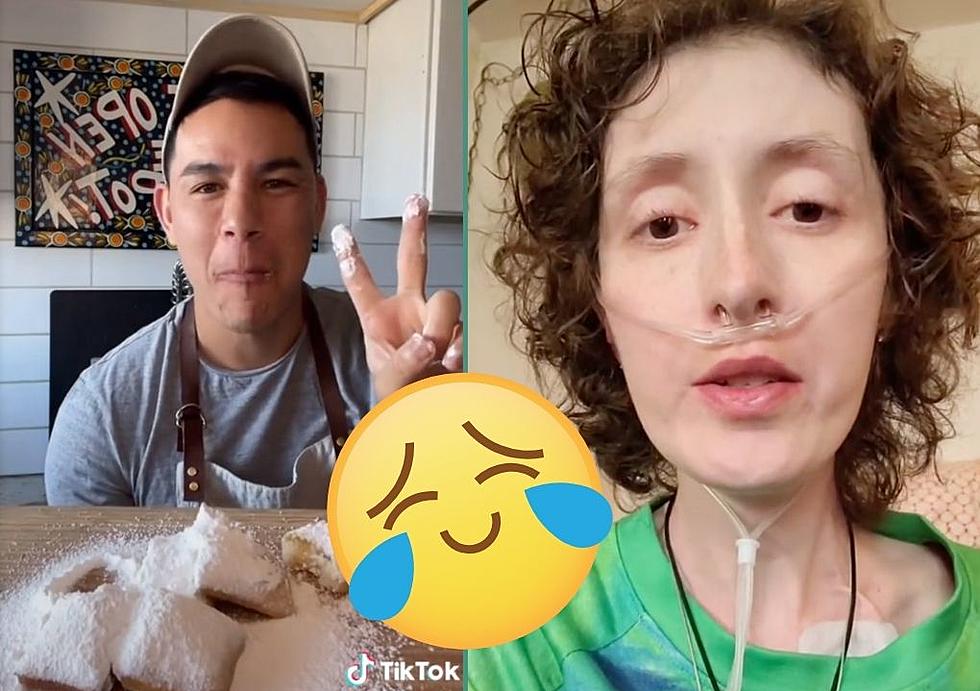 Chef Travels 2,000 Miles to Fulfill Item on Terminally Ill Iowan's Bucket List
Jessicachristine6 via Tik Tok bautistud via Tik Tok
If you're looking for a sweet story that will restore your faith in humanity, look no further!

Chris Bautista is a chef and owner of a food truck based in Los Angeles. His business on wheels is called 'The Beignet Truck' and he's using his gift of baking to help someone check something very important off their bucket list.
Halfway across the country, about a month ago a young Tik Tok creator put out a video that would capture the internet's attention. Jessica Hiatt or Jessica Christine on Tik Tok describes herself as terminally ill. The Ames woman is currently battling Stage IV Colon Cancer.
She frequently posts about her own health journey, colon cancer awareness, and every now and then her love for Harry Potter.
Jessica put out a video in February sharing a MAJOR bucket list item.
"I've always wanted to try beignets from New Orleans," the Iowa woman explains. "I don't think I'll ever get down there, so if someone out there could possibly send them!"
Beignets are deep-fried pastries covered in sugar. The city of New Orleans is famous for this delicious type of pastry.
Bautista was sent the initial video with Jessica's request and quickly agreed to come out for this special mission. He shared his tearful response to the request on social media.
"It's not very often that you have the power to give someone their bucket list wish," the chef says through his tears.
While he didn't necessarily have the funds to turn this wish into a reality at first; after posting a GoFundMe page called 'Bring Beignets To Jessica' and going $3,000 over his initial goal, he can help the young woman check this item off her bucket list.
Hy-Vee actually hopped on board to help this chef bring beignets to Jessica as well! Bautista's plan was to find a local kitchen or business that would help him make the beignets fresh right in front of Jessica on her property.
Hy-Vee reached out to him and will be partnering up with this chef to get him EVERYTHING he needs to give the young Iowa woman an experience she'll never forget!
On March 11th, Bautista hopped on his plane and headed out to the Hawkeye State! We'll make sure to keep you updated on what goes on after this sweet exchange.
Snake Alley in Burlington, IA
Burlington, IA is just one hundred and fifty miles away from Waterloo and a hundred miles away from Cedar Rapids is one of the most see attractions for tourists. Ripley's Believe It or Not! voted Snake Alley as the #1 Odd Spot in America.
Largest Skatepark In America is in Iowa
A work in progress for several years, last spring saw the opening of Lauridsen Skatepark in Des Moines. Measuring up at 88,000 feet long, this is the largest skatepark in the entire country.