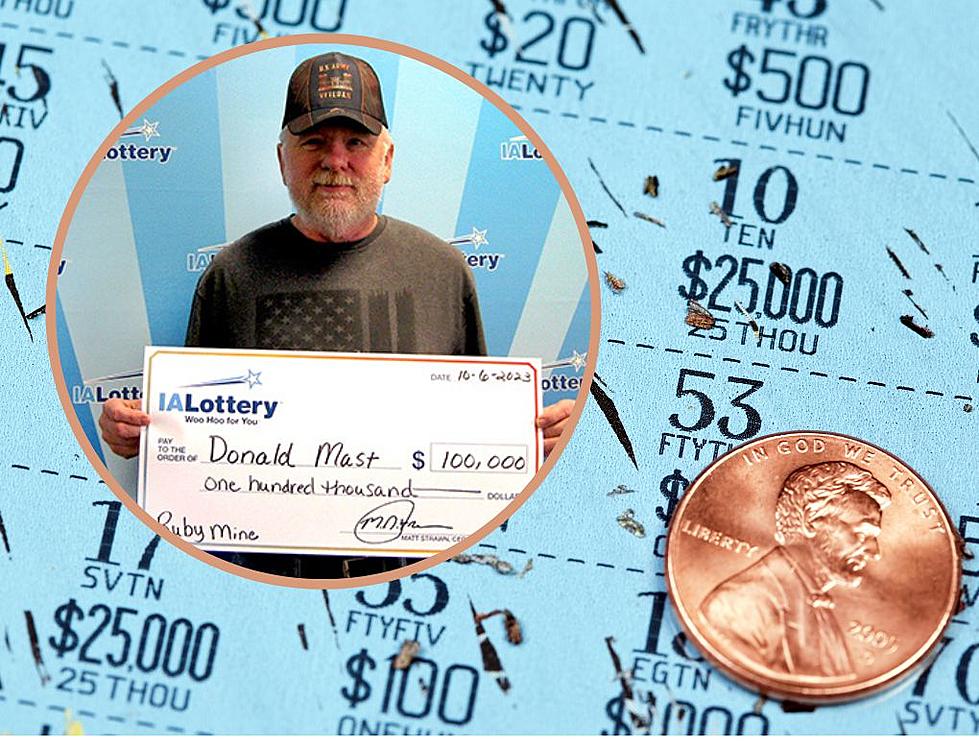 Eastern Iowa Man Strikes Lottery Gold With Huge Win
Iowa Lottery/Canva/KM
Eastern Iowa has yet another lottery winner!
There have been quite a few lucky Iowans over the past few weeks.
Recent Lottery Winners in the Hawkeye State
A Waterloo gentleman named Lawrence Hill Sr. ended up taking home a lottery prize, according to reports from Iowa Lottery. Reports say that Hill purchased the lucky ticket at Prime Vape & Tobacco in Waterloo. Located at 508 Broadway St. in Waterloo, Hill purchased the Iowa Lottery's "Money Bag Doubler" scratch game.
He ended up winning $10,000 after playing the "Money Bag Doubler" scratch game. The initial ticket cost $2 and features five top prizes of $10,000. In addition, the odds of winning the game are 1 in 3.81. 
In addition, earlier this month two million dollar winning Powerball tickets were sold. According to reports, one of these tickets was purchased in Maine and the other one was bought at an Iowa gas station.
The $2 million ticket was purchased at a Casey's in Tiffin and the owner of the ticket has not come forward yet. Read more about this here.

$100,000 Winner in Black Hawk County
A Washburn resident is now $100,000 richer after playing the Iowa Lottery. According to reports, Donald Mast won the second highest prize of the scratch game "Ruby Mine."
Mast purchased his scratch ticket at Cork's Grocery located at 1956 Lafayette Street in Waterloo. The Black Hawk County man claimed his $100,000 prize on Friday, October 6th at the Iowa Lottery's Cedar Rapids regional office.
Stay up to date with everything going on in Eastern Iowa by downloading the free station app from your app store. Also, do not forget to follow the station across all social media platforms so you can be in the know about other news concerning our neck of the woods.
Smallest Populations In Iowa
Smallest Populated Towns In Iowa
Gallery Credit: Gabe Glidden
Pershing Square Restaurant in NYC
One restaurant in New York City has an interesting connection to one Iowa celebrity. This spot was a filming location for an Iowa adjacent actress.
Gallery Credit: Kerri Mac