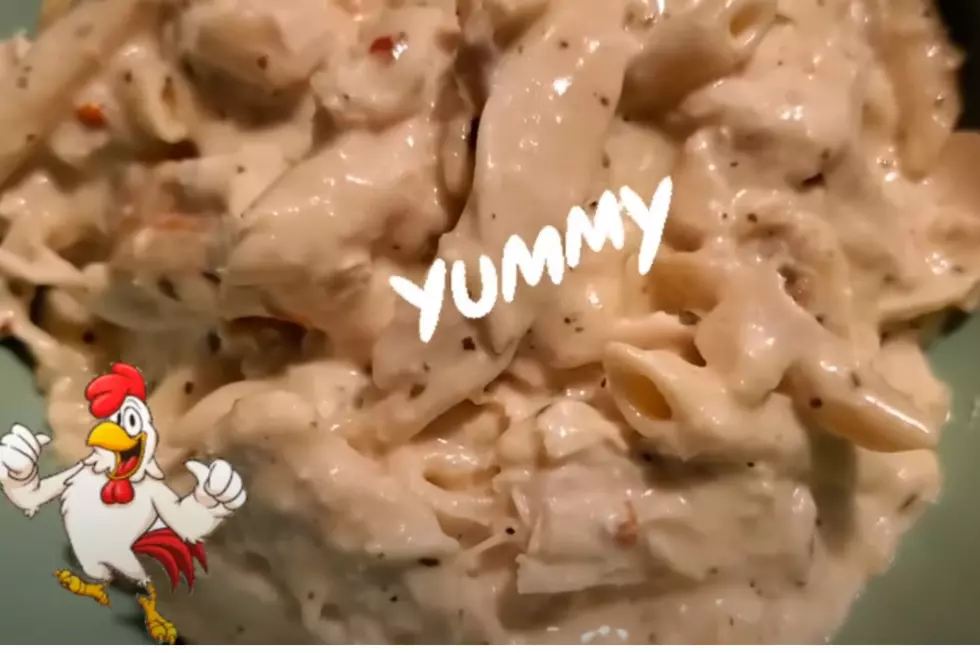 Iowans, You Have To Try This Crockpot Recipe [WATCH]
Blakley's Kitchen via YouTube
The football finale happened yesterday (February 12) as the NFL has crowned a champion of the 2022-2023 season. Congratulations to Kansas City Chiefs fans. If you were like me and didn't care who won, I hope you enjoyed the game nonetheless. If you didn't go out to eat or enjoy a party, I hope you at least enjoyed some decent food.
Yesterday, my fiance and I discovered this really easy crockpot recipe, and the only ingredients you need are chicken breasts, milk, and a bottle of Buffalo Wild Wings parmesan garlic sauce.
At our house we like garlic. We could put garlic salt on just about anything so if you don't enjoy garlic or parmesan, this recipe might not be for you. Saturday afternoon (Feb 11) we were both scrolling on our phones as we were lazily enjoying doing nothing.
We had finished our chores that morning, brought our taxes to our tax prep service, and decided to sit down and lounge the Saturday away. That's when we discovered a crockpot recipe on YouTube that we had to try.
As with most things that involve a crockpot recipe, this is one of the easiest things to make. We were kind of skeptical that something this simple to make could really taste that great but we both really enjoyed how it turned out.
All you need to do is put your chicken breasts in the crockpot, squeeze a bottle of Buffalo Wild Wings parmesan garlic sauce on top of the chicken, fill the empty bottle with your milk of choice, and set the crockpot to hot for 3 hours or warm for at least 5.  Buffalo Wild Wing sauces can be found at your favorite HyVee for about $4.
When the chicken was done, we boiled noodles, added them to the bowl, and voila, one of the easiest chicken crockpot recipes we've ever made. We boiled the noodles and added them in after as we weren't sure if they would get too soggy or not, which worked out fine for us.
In this video, you'll notice Blakley's Kitchen put the noodles into the crockpot right away and added a few extra ingredients that we didn't but I'm sure this will taste great just the same. We didn't want to add more calories from the cheese to the recipe. I know, we're the worst...
The next time you're looking for an easy-to-make meal or want something that takes very little effort, this will take you 10 minutes max to prep. You could try this with any of your favorite sauces if you want to go a different route than parmesan garlic. Just make sure to leave yourself enough time for the chicken to cook.
Top 10 Foods to Not Bring to the Next Big Game Party
Top 10 Foods to Not Bring to the Next Big Game Party
These Are The BEST Fast Food Menu Items That You Are Not Ordering
These are the best menu items at Cedar Valley fast food restaurants. I compiled this list from Reddit reviews and personal taste, too. See if you agree.