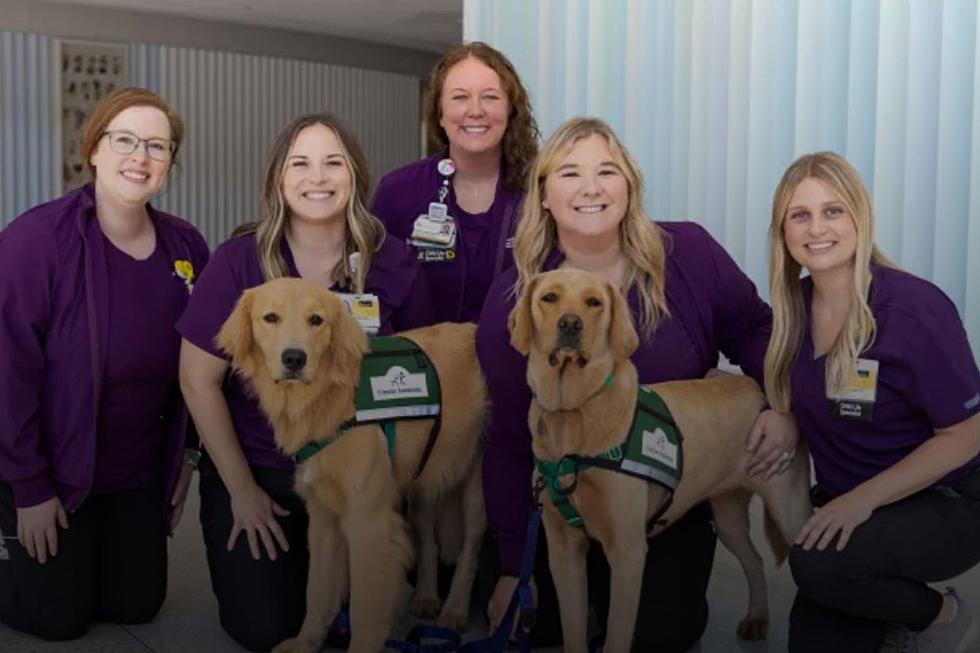 Iowa Children's Hospital Is Adding New Tail Wagging Staff Members [PHOTOS]
University of Iowa Stead Family Children's Hospital
The University of Iowa Stead Family Children's Hospital is welcoming a pretty furry duo to their team. This duo will be the very first of its kind at the hospital! They also have a combined 8 legs and they are two of the cutest furballs you'll ever see. Meet the hospital's newest staff members, Nacho and Corrin!
Nacho and Corrin will be joining the Children's Hospital as part of their Wags & Waves Facility Dog Program, according to KCRG. Both of these dogs are child life specialists, as well as their handlers and part of their job will be to support patients while they're at the hospital.
According to UIHC, Corrin was born on April 9th and is a golden retriever/chocolate lab/poodle mix. The hospital describes her as sweet, goofy, playful, and calm. She loves to play fetch, meet new friends, and take naps. Corrin's primary handler is Aly Humphrey and her secondary handler is Kristen Rooney.
Nacho was born on May 9th and is a golden retriever/poodle mix. The hospital describes him as sweet, calm, silly, and playful. He loves a good snuggle and will nap at any time, any place. Nacho has siblings who are also hospital facility dogs. His primary handler is Emily Bradley and his secondary handler is Taylor Turben.
According to the hospital, facility dogs are "community service dogs who provide animal-assisted therapy in a pediatric health care setting." These dogs will not only be able to provide support for the patients in the hospital, but they will also help patients through pain management, family support, and outcome-driven play.
These dogs live with their handlers year round and really do treat this like a human would treat their job. Once their work vests come off, they know they are done for the day and can enjoy their day like any normal employee would. I'm not sure how often you like playing fetch...but these two hard-working Dogtors sure might!
Racheal Neinsteadt, CCLS, is the Manager of the Child Life Program at the Children's Hospital and she spoke to KCRG about how important these dogs are to their team.
Our new facility dogs are very important members of the healthcare team. Together with their handlers, Corrin and Nacho will help children achieve specific clinical goals through animal-assisted interventions.
Anything the hospital can do to help these patients feel more comfortable, more confident, and more secure, is something 100% of people can get behind. According to the hospital, the Wags and Waves program is completely funded by philanthropic dollars, which you can help support but visiting the Child Life program wish list.
Weird Names Iowans Have Given to Their Pets
Iowans submitted strange and weird names they have given their real pets and these are some of the strangest. *The animals in these photos are not the owners real pets*
Eastern Iowa Apple Orchards & Farms to Check Out This Fall