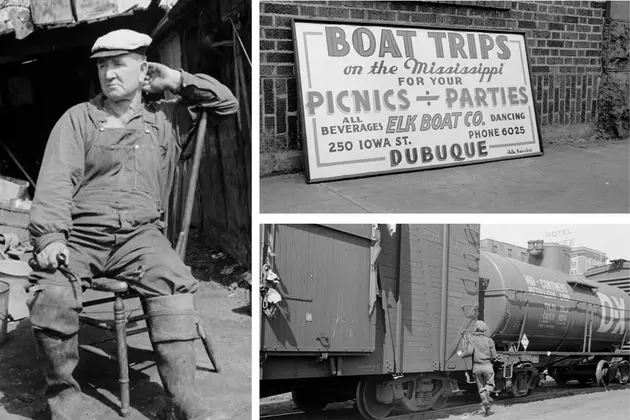 What Was Life Like in Dubuque in the 1940s?
Photo Credits: ReelNostalgia, YouTube + John Vachon
Looking at old photos of your town/homeland is an enlightening experience. It gives you an idea of where your region came from, and often provides a stark contrast compared to what it is now. When perusing the depths of YouTube for videos related to Dubuque, I stumbled upon a treasure trove...
Seven years ago, YouTube user ReelNostalgia uploaded a compilation of photos set to music. The photos are of Dubuque throughout the 1940s, taken by photographer John Vachon. Vachon was a famous American photographer of the era. A Saint Paul native, Vachon traveled the country and took photographs of every day events. Consider him the Frederick Wiseman of the time, if you will.
The collection of photos in the video (embedded above) are quite extensive. They show every day working class families tending to their homes, their jobs, and going about their daily lives in downtown Dubuque. Also featured are lovely shots of the Mississippi River, billboard advertising of the time, and some buildings you might recognize as still standing today.
There is an underlying sadness to some of these photographs, however. Some of which are painful. Few people are smiling. Keep in mind, some of these photos might have been taken in the midst of the Great Depression, where the ongoing financial hardships and emotional trauma of World War II were still being felt by millions.
You also get the sense that certain sectors of Dubuque still had a long way to go in terms of development. It's not even the lack of commerce in some areas; it's the lack of cleanliness. There's garbage and debris in fields, broken plywood, etc. Things are unbelievably different (and cleaner now), but it wasn't always that way.
Scrolling through the comments on the YouTube video itself is fun too. It's littered with people providing context of their own lives and their experiences living and working in Dubuque many moons ago:
I highly recommend carving out five minutes of your day to watch this beautiful and revealing video compilation on YouTube. Read more about the life and work of photographer John Vachon here.
LOOK: Here are the 25 best places to live in Iowa
Stacker
compiled a list of the best places to live in Iowa using data from
Niche
. Niche ranks places to live based on a variety of factors including cost of living, schools, health care, recreation, and weather. Cities, suburbs, and towns were included. Listings and images are from
realtor.com
.
On the list, there's a robust mix of offerings from great schools and nightlife to high walkability and public parks. Some areas have enjoyed rapid growth thanks to new businesses moving to the area, while others offer glimpses into area history with well-preserved architecture and museums. Keep reading to see if your hometown made the list.