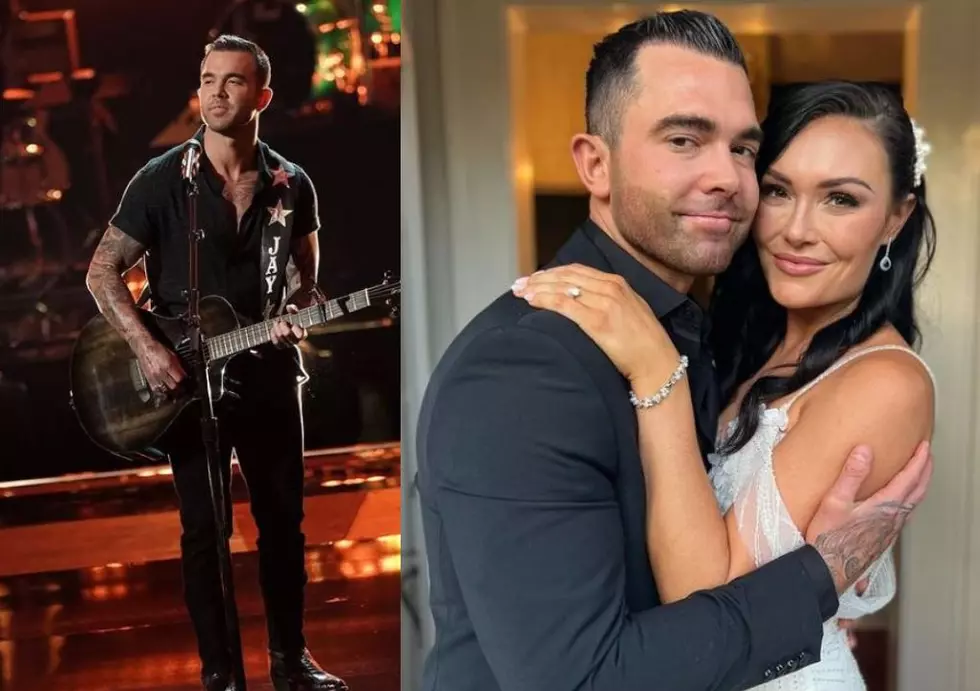 Cedar Falls Star Has Hilarious Wedding Gaffe
Jay Allen via IG/NBC
2022 will go down as one of the most important years of Cedar Falls native, Jay Allen's life. Not only did he compete on a national singing competition show, but he also FINALLY got to marry the love of his life.
A hurricane couldn't stop this singer from tying the knot, but a hilarious mistake almost did.

Jay Allen of Cedar Falls instantly became a fan favorite on NBC's 'The Voice' when he shared his story about his mother's battle with Alzheimer's earlier this year.
After Allen's audition on the show, a song that he wrote five years ago suddenly rose to the top of the iTunes USA and country charts. You can read more about the meaning this song has for him here.
The Nashville artist initially charmed his way onto Gwen Stefani's team.
"Everyone who's country on this show is gonna choose Blake," the singer explained "...and I would really love to stand out and have a fair shot!"
Then in an edge of your seat television moment, during the knockout rounds, Allen ended up going to Shelton's team. You can watch the full clip here. Blake even confirmed that him stealing Allen created a bit of a tense situation with Stefani.
"Almost got me divorced from my wife, for God's sake!" Shelton said in the recent episode.
Unfortunately, he didn't last much longer on Shelton's team. During the knockout rounds, Allen spotted his then fiancé, country singer Kylie Morgan, in the audience and choked up during his performance.
"It is rare that I get flustered, but she overwhelmed me. It was actually a beautiful moment for me and to have her face in the crowd is more than worth it for me," Allen said.
Read more about that performance here. 
After filming, the rising star dove into wedding preparation. Allen and Morgan were set to get married in Fort Meyers, Florida at the end of September. Unfortunately, the couple had to postpone their nuptials due to Hurricane Ian.
"Obviously we're very sad, very upset, but again this is the least of our worries. We still have each other," Allen's fiancé said. "...all of our friends are safe and that's all that matters."
Nearly two months after their initial wedding date, these two finally tied the knot in Florida in a beautiful ceremony. The wedding went off without a hitch, or so the couple thought...
The day after the Cedar Falls native said "I do," his wife (technically still his fiancé) posted a video to social media sharing that they weren't ACTUALLY married. At least not yet...
Allen and Morgan went through the whole pomp and circumstances of their dream wedding... and forgot to get their marriage license.
"Fun fact: Yesterday was our wedding day ... but we're actually not married yet, because we forgot to get our license! We're gonna go get married now," Morgan shared on social media.
But don't worry! In the end, they ended up making the trip to the courthouse to make everything official as soon as they found out.
Congratulations to the talented bride and groom on FINALLY getting the chance to tie the knot after quite a few bumps along the way!
Bridegerton-Esque Cabin Mansion In Waterloo
You can live like you're living in your own English regency drama in this Waterloo Cabin Mansion. This is the diamond of the season in the real estate world.
Country Thunder Iowa 2021-2022
The music festival will not be returning in 2023. After only two festivals under its belt, Country Thunder Iowa brought in well-known country acts to the area.