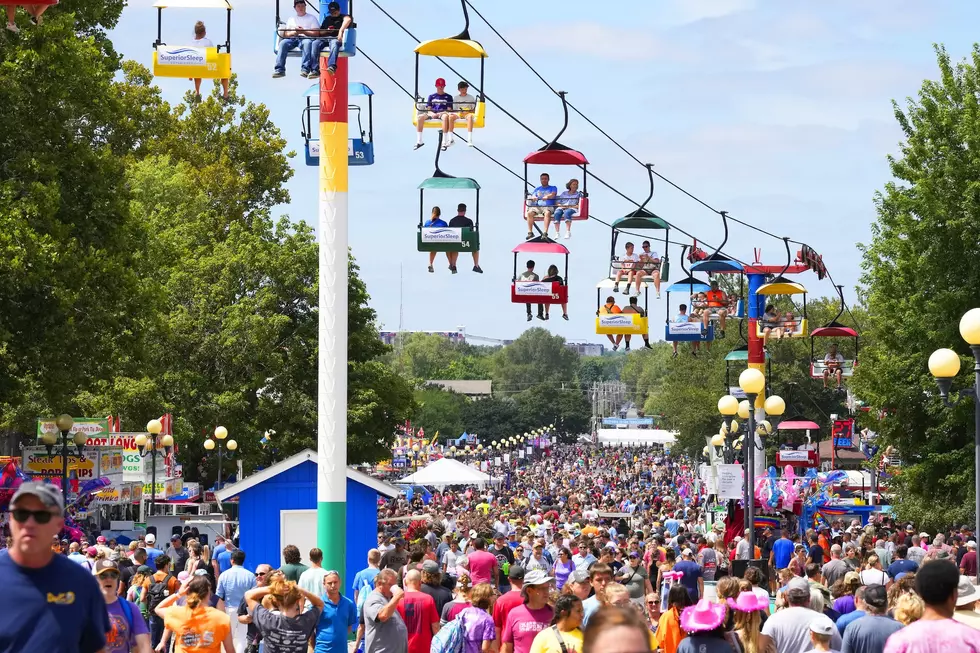 The 2023 Iowa State Fair Was the Second Largest in History
Iowa State Fair, Facebook
It was a great year for the legendary Iowa State Fair! According to a new press release, this year's fair was one of the biggest EVER!
The attendance count for the 2023 Iowa State Fair was 1,133,958, which makes it the second largest in the fair's 169 year history. That's around 15,000 more attendees than in 2022. And, the first Sunday of the 2023 fair also set a record. Nearly 15,000 people came out to the fair on August 13th, the most since 2017, which saw 112,396 guests.
One of the big draws of the Iowa State Fair is the grandstand entertainment. 11 shows took place over the course of the 2023 event, with two of them attracting more than 17,000 people: Eric Church on August 13th and The Chicks on August 19th. It was also a big year for FOR KING + COUNTRY. Their August 10th concert was the biggest contemporary Christian concert EVER for the Iowa State Fair, drawing in 9,294 people.
Maren Morris is another artist that played at this summer's fair, but it's her bassist that really stole the show! Annie Clements decided to jump into the yodeling competition at the last minute due to a plea for more contestants. She had never yodeled before, but she ended up tying for first place!
Now, let's get to the FOOD! There were over 200 food vendors set up at the 2023 Iowa State Fair, but only one went home with the Best New Food award. Out of the 60+ new foods that debuted this year, the Deep-Fried Bacon Brisket Mac-n-Cheese Grilled Cheese from What's Your Cheez ended up taking home the coveted award! 8,254 people voted in the contest, which also featured two other finalists: the Iowa Twinkie and the Grinder Ball.
In addition to the attendance records in 2023, there were also new records in other areas of the fair. The press release reads:
"Agriculture is the foundation of the Iowa State Fair and was highlighted by eight new records in the 4-H and FFA Sale of Champions, including the all-time record for all species. The Grand Champion FFA Market Hog exhibited by Delaney Runner from Gilman sold for $150,000."
For more numbers from the 2023 Iowa State Fair, you can check out the full press release HERE.
LOOK: Highest-rated free things to do in Iowa, according to Tripadvisor
22 Fun Places to Take Your Kids This Summer in the Corridor
We put together a list of 22 kid-friendly places in the Corridor - some for little ones, some for kids, some for teens, and some for kids at heart! Here are some venues you might want to check out!