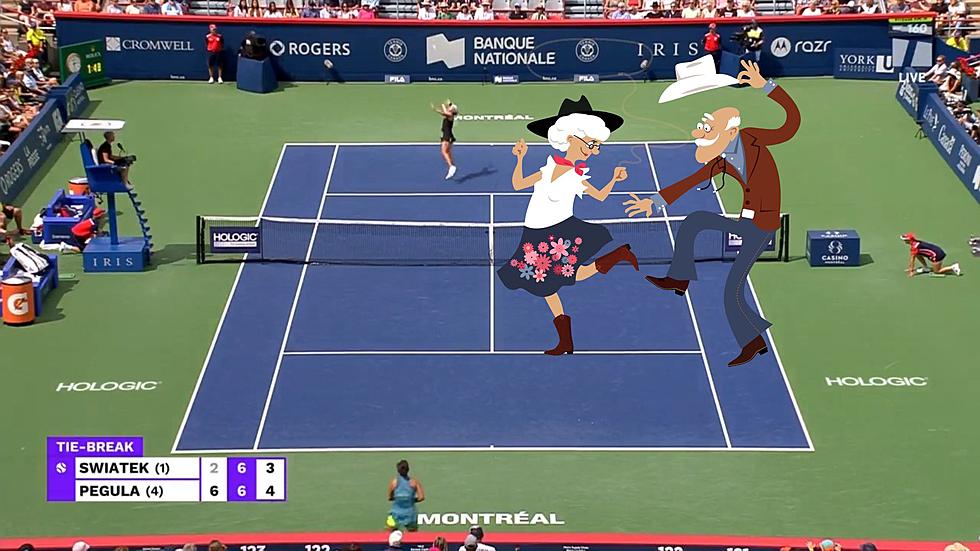 Tennis Match Interrupted By 'Cotton Eye Joe'
Tennis Channel via X
Cotton Eye Joe is one of the most recognizable pieces of music in all of the history of music. The yodel-like disco song kicks in, and people immediately start dancing. It's a song that raises moods anywhere it's played - unless it's in the middle of a silent tennis match.
American star Jessica Pegula shocked the world No. 1 Iga Świątek in the semifinals of the Canadian Open in Montreal on Saturday when some sort of mis-press of a button.
Pegula was 4-3 up in the middle of a volley when Cotton Eye Joe came on, forcing the umpire into a let, while the song continued to play.
"I just thought it was funny," Pegula said afterwards, according to Reuters.
"I've never had that happen, let alone with 'Cotton-Eye Joe.' I was like: 'Is this really happening right now?' Of all the songs. It was just like: 'What is going on?'
It did stop a play that would've probably taken a point in the favor of Pegula.
"Yeah, it was a bummer because I hit a really good lob and she barely got it, and I had a really good play on the ball, and she was kind of out of position from the lob that I hit."
The referee came over to the system and said "Re-play the point.
Świątek took a 4-2 lead in the deciding third set but Pegula won the last four games, and 16 of the last 19 points of the match, to seal victory.
Read more at CNN
WOOF: These are the most popular dog breeds in America