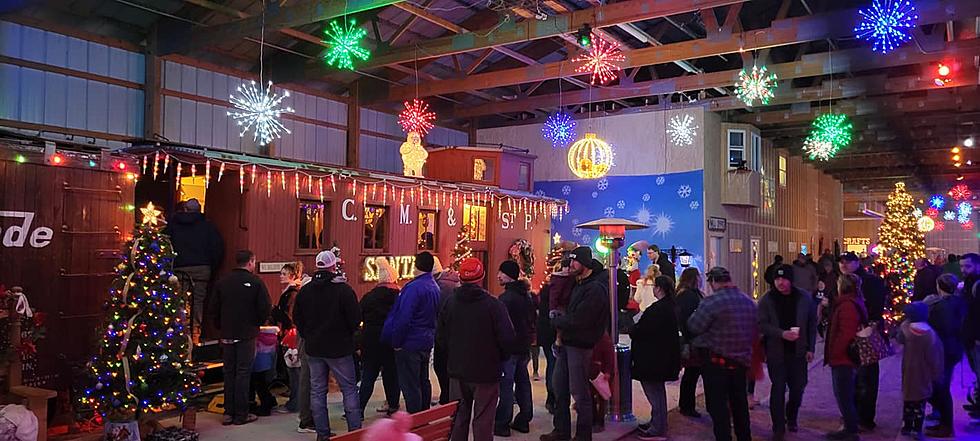 Take Your Kids on One of Iowa's Holiday Train Rides in 2023
Midwest Central Railroad, Facebook
Looking for a unique Christmas experience for your kids? Look no further! Iowa is home to a couple of fun holiday trains that your family can take a ride on.
The first holiday train ride to kick off in 2023 is the Santa Express in Boone, Iowa. The annual event is put on by the Boone & Scenic Valley Railroad and will host its first ride of the season on November 24th.
A ride on the Santa Express takes Iowans on a trip over the Bass Point Creek High Bridge to the "North Pole" and back. Santa will pass through the train to greet all the children and pass out a special gift.
The Santa Express runs Friday through Sundays from November 24th through December 17th. Tickets will go on sale on November 1st and they typically go very quickly, so it's best to plan ahead. Coach tickets are $25 per person and first class is $50 per person. Ages 2 and under are free, but will not have their own seat. You can purchase tickets online HERE.
The other holiday train here in Iowa is the North Pole Express in Mount Pleasant. It's put on annually by the Midwest Central Railroad and will host its first ride for 2023 on Saturday, December 2nd.
The North Pole Express "magically" transports riders to the North Pole, where they are greeted by Santa, Mrs. Claus, elves, and the Magical Snow Princesses. According to the website:
"Once you arrive at the North Pole there are many activities in which to participate such as the Christmas Craft Room, Santa's toy trains, Mrs. Claus's Cookie Coco Factory and more."
The 2023 schedule for the North Pole Express is Saturdays & Sundays from December 2nd to 17th. Like The Santa Express, tickets go on sale on November 1st at 12:01 a.m. The cost is $25 per person, with children under 18 months free. You can get more information and purchase your tickets online HERE.
Weird Things Iowa Kids Have Asked for for Christmas
Has your child ever put something unusual on their Christmas list? If so, you're not alone! Here are some of the strange things that Iowa kids have asked for!
Gallery Credit: Courtlin
11 Awesome Iowa Cabins to Check Out This Fall & Winter
Looking to take a little staycation this fall or winter? There are some really cool cabins you can visit here in Iowa! Here are 11 of the highest-rated in the state on Airbnb:
Gallery Credit: Courtlin