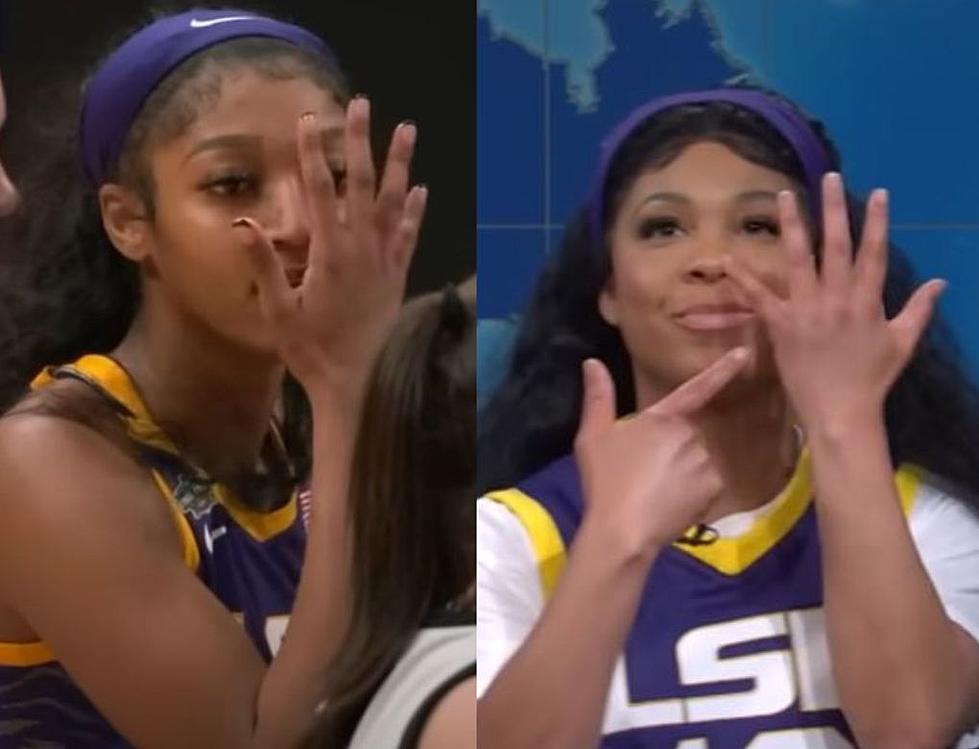 SNL Gives Interesting Take On the Iowa Vs. LSU Drama
ESPN/NBC
For a lot of people, they haven't "made it" until they've been impersonated on the pop culture staple "Saturday Night Live."

The only thing anyone in the sporting world has been talking about is the NCAA Women's Basketball Championship game. The two best teams in the country; Iowa and Louisiana State University, went toe to toe in a wild match that left fans on both sides stunned.
LSU ended up coming out on top in the tournament in a history-making win! The team's star player Angel Reese ended up being named NCAA women's basketball's MOP (most outstanding player), but not before social media started sweeping her up in a controversy.
After throwing up John Cena's "you can't see me" move against Iowa player Caitlin Clark (who had done it a time or two before in previous games), some people online criticized Reese for her behavior.
Then it seemed to resolve itself after both girls publicly admitted to their being no hard feelings about the situation. Things can get heated up in the moment.
As is tradition, the winning team from the tournament gets invited to the White House.  First Lady Dr. Jill Biden made a comment about wanting to invite BOTH teams to take part and be recognized. Reese was not a fan of that (rightfully so).
Since then, Reese has accepted the invitation and the Iowa team has kindly turned down the offer. Even though this all seems settled and done, it's not officially over until the "Saturday Night Live" writers get a crack at it.
The episode was hosted by SNL alum Molly Shannon and the musical guests were the Jonas Brothers.
So a pretty packed and star-studded show!
On April 8th, during the Weekend Update segment of the show, co-host Michael Che brought on "Angel" or in this case, SNL cast member Punkie Johnson. They talked about the drama of the past week.
"I got people big mad," the actor said.
"You would have thought I pulled my nipple out and flicked it on national tv."
During the short segment, the topic of the Iowa team came up and their invite to the White House. The writers seemed to agree with the general consensus that fans had about this situation. Only the winning team should be going to the White House.
You can watch the full video down below!
Pershing Square Restaurant in NYC
One restaurant in New York City has an interesting connection to one Iowa celebrity. This spot was a filming location for an Iowa adjacent actress.
Strangest Rental Properties In Iowa
Here are just some of my favorite strange and cool rental properties that you can check out in Iowa!