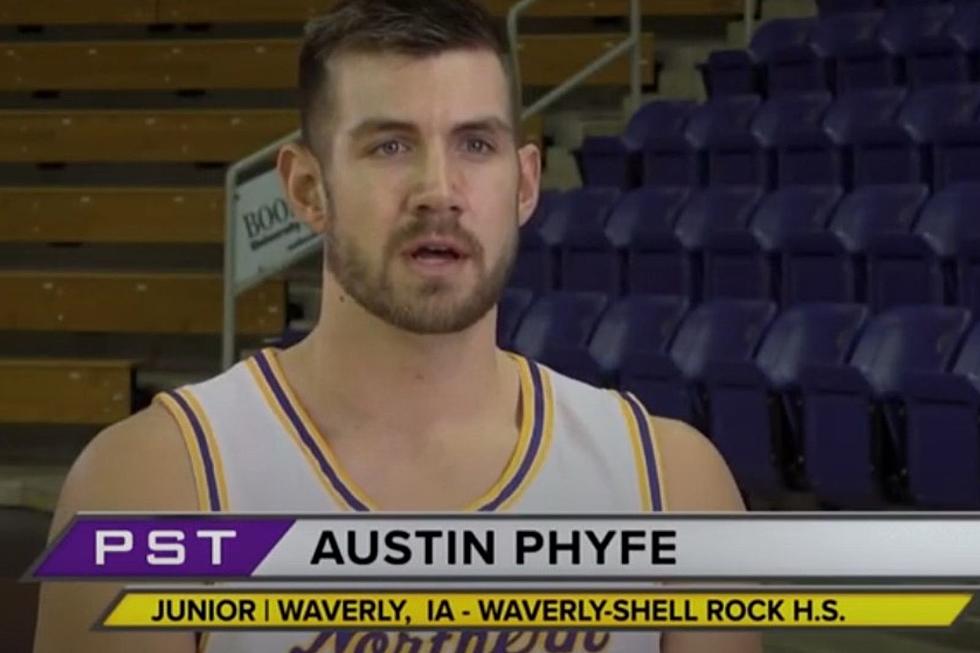 Sad News For University of Northern Iowa Basketball Star
Panthers Sports Talk via YouTube
One of the sad realities for anyone who plays sports, at any level, is that one day your playing career will come to an end. Whether you took your last snap on the football field as a senior in high school or you go on to play in the pros, eventually time will catch up to you. Tons of athletes hope to play as long as their bodies will let them. For this young man from Waverly, Iowa, his college basketball career ended earlier than he would've hoped.
Austin Phyfe started seeing gametime minutes the second he walked onto the UNI campus. As a freshman, he played in 28 games for the Panthers and in his first start, he scored 20 points and snagged 8 rebounds, according to UNI Panthers Basketball.
During Austin's second year of college basketball, his season ended a bit early as he suffered a season ending illness in the month of December. Austin was able to become a red shirt sophomore to add another year of eligibility to his college basketball career.
During his redshirt sophomore year, Austin become a star for the UNI men's basketball program. He became a First Team All-MVC player and also was an MVC First Team Scholar Athlete. Austin was shining on the court and in the classroom, according to UNI Panthers Basketball.
As you can see in Austin's Instagram post, his college basketball career will sadly come to an end. Austin missed last season with health issues and sadly more health issues have continued into this year. According to KCRG, Austin had surgery last June to remove blood clots on his lungs.
With this surgery, Austin has decided forgo his remaining year of eligibility and he has medically retired from basketball.
His 6'9 presence will surely be missed on the court by his teammates and coaches. He had moments where he dominated basketball games and the UNI basketball team will surely miss him in the upcoming season.
Austin told UNI Basketball,
In June of 2022, I was diagnosed with a pulmonary embolism, which led to emergency surgery to remove blood clots from my lungs. Since then, I have been working with doctors to decide the next best step for my health. After many tests, meetings, appointments, and doctor recommendations, I am still on blood thinners making it dangerous to compete. Therefore, my wife, family, and I have decided that it is best for me to medically retire from basketball. This was not an easy decision to make, as I love the game of basketball and wish it could have ended on a higher note, but this is the best decision for my long-term health
Even though Austin won't be playing for the UNI Panthers next season, he will remain involved with the program as he sets to begin graduate school this fall. Austin will end his career with the highest field goal percentage in UNI basketball history at 60.4% and is 53rd on UNI's all time scoring list, according to UNI Basketball.
Austin made sure to let the UNI Panthers fan know that he was incredibly thankful for all of the support he's been shown throughout the years. He told UNI Basketball,
I am beyond thankful for all of the support from Panther Nation over all of my years, especially the past couple throughout my health concerns. You truly are the best fans out there, and I have loved wearing Northern Iowa on my jersey. I also need to give a big thank you to my wife, family, teammates, and the coaching staff.
You can tell Austin is respected and loved by his teammates. It's awesome to hear all of the kind words they say about him in this video, made by Panthers Sports Talk, last season.
Iowa Born Sports Stars
What do each of these stellar athletes have in common? They all hail from the Hawkeye State.