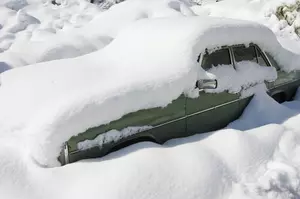 Stranded Snow Survival Guide
Jupiterimages
Yes, I got stuck in the snow during the Minnesota and no, I wasn't prepared to get stuck. After having my car stuck in the snow, getting a ride to an emergency weather shelter, having to stay there for 2 days, getting my car towed out of snow and finally back to Iowa, I learned about a lot of the stuff I should have had or did have to get through this situation.
Not that I want this to happen to anyone else or that I want to worry about this happening to me again, but I think we should all be prepared for the future because 2019 may just be the year of snow.
Here is my Stranded Snow Survival Guide.
5. Snacks - I am always hungry so this is a must.
6. Charger- Honestly, don't know what I would have done without my phone!
7. Book- you are in it for the long haul
8. Map- if you can read one unlike me, it may come in more handy to you.
9. Change of clothes- you never know how cold it will be.
10 A friend- because it is no fun to do this "adventure" alone and honestly two heads are better than one.