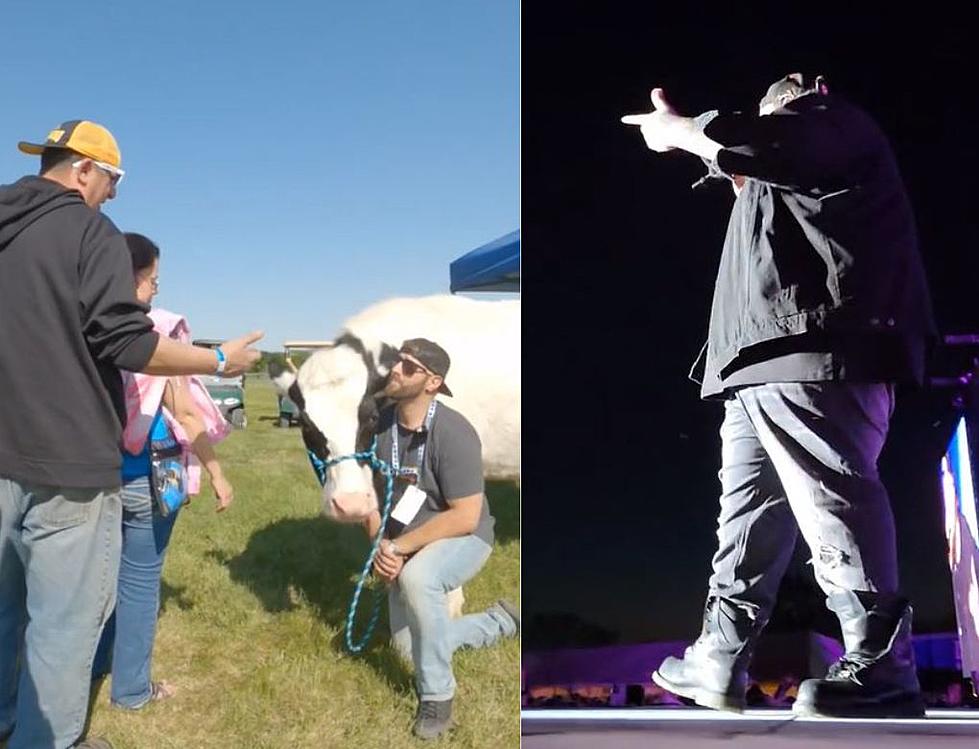 Internet Star Makes Surprise Appearance At Iowa Music Festival
Mason Corkery via Tik Tok
You know what they say...
Every young cow remembers their very first concert.

Gucci is back at it again! Can you believe it's been nearly two years since the world was introduced to the viral Jesup cow?
Mason Corkery a digital content creator, calf ranch manager, and regional sales manager, has been sharing videos of his adventures with his bovine buddy ever since 2021.
Gucci the cow and Corkery went viral after a hilarious video detailing an adorable and hilarious joy ride. You can watch the video down below!
But the duo really captured national interest when Corkery started taking his steer to some of our favorite fast-food places. The video of Corkery taking Gucci to Dairy Queen has been viewed almost 12 million times on Tik Tok.
Then he went viral again for a hilarious trip to the Chick-Fil-A in Waterloo. A small crowd gathered around the location when he and Gucci drove through. You can watch that video down below!
His latest adventure took him to Forest City for the first ever DenimFest. Over Memorial Day weekend, the Winnebago Rally campgrounds played host to musicians and festival goers alike.
Festival organizers brought in several big name headliners like Big & Rich and Smash Mouth on Friday night, Dierks Bentley on Saturday evening, and Jelly Roll wrapping up the event on Sunday.
AND the guest of honor...Gucci the cow.
The first night of the music festival was technically Gucci's very first concert. Imagine performing to a huge crowd in Forest City and seeing a cow in the audience.
Only in Iowa...
The duo spent the entire weekend at the festival! There were mullets, beer, and plenty of eager people that wanted to meet one of the most famous cows on the internet.
You can also have Gucci and Corkery attend your event! For more information on how to make that happen, make sure to contact Gucci and Mason Corkery here at Guccithecow.com.
Stay up to date with pop culture and entertainment news coming out of Northeastern Iowa by downloading the free app from the app store. Also, make sure you are following the station across all social media platforms.
Strangest Rental Properties In Iowa
Here are just some of my favorite strange and cool rental properties that you can check out in Iowa!
Country Thunder Iowa 2021-2022
The music festival will not be returning in 2023. After only two festivals under its belt, Country Thunder Iowa brought in well-known country acts to the area.