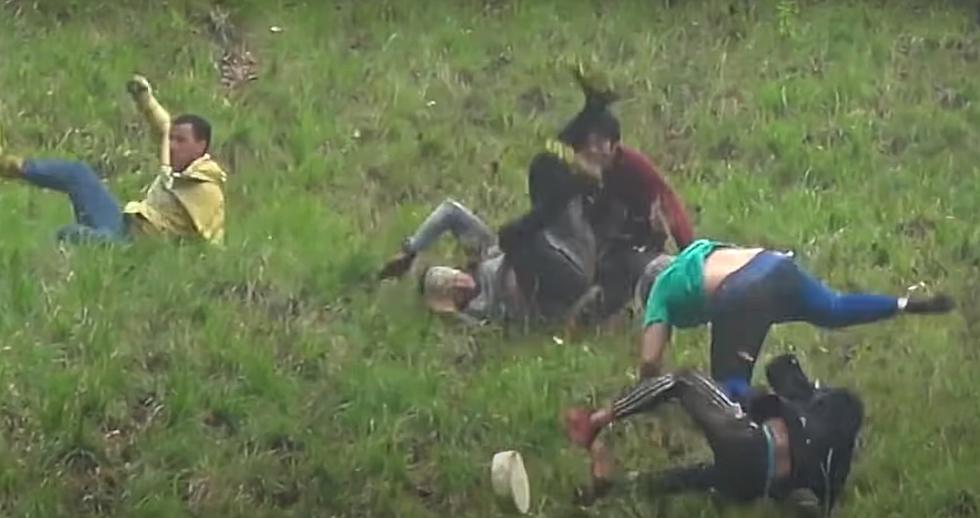 "Cheese Rolling" Needs to be an Olympic Sport [OPINION]
Newsflare via YouTube
The 'sport' of Cheese Rolling in England has occurred annually during the month of May since the 1800s. The race involves chasing an eight-pound Double Gloucester wheel of cheese down a grassy hill. The hill is so steep that the runners don't start the race standing; instead, they have to sit at the starting line.
The winner is supposed to be the one who successfully catches the cheese, but in reality, the cheese can never be caught, so the winner is the first person to cross the finish line. Not all the competitors succeed in reaching the bottom of the hill unharmed, many of them get injured, and it's amazing to watch – and since the participants are running at an incredible rate of speed once they reach the bottom, they are quickly tackled by rugby players to prevent them crashing into a fence. Sounds fun, right? FUN TO WATCH!
Unfortunately, the 2020 and 2021 events were canceled due to Coronavirus restrictions.
From cheeserolling.com:
The wheels of Double Gloucester hurled down the hill weigh nearly eight pounds, measuring three inches thick and nine inches in diameter.
By the time they hit the safety net at the bottom of the 250-yard race course, the cheese wheels are spiraling unpredictably at up to 70 miles an hour.
Provided runners are still on their feet when they get to the bottom, they're promptly tackled by rugby players to prevent them crashing into a fence.
Four adults and four children were zapped by lightning when a sudden thunderstorm interrupted the 1982 cheese roll. However, as soon as the rain cleared, the racing resumed.
One of the boys hit by lightning in 1982 went on to run in the race ten years later-and snap his thighbone in half and ended up with an 18-inch pin in his leg.
Runners aren't the only ones at risk; bystanders have also been hurt by out-of-control runners, but more often by bouncing cheeses.
After the event was officially banned in 1998, the organizers introduced safety measures so that the race could continue.
LOOK: Here are the 25 best places to live in Iowa
Stacker
compiled a list of the best places to live in Iowa using data from
Niche
. Niche ranks places to live based on a variety of factors including cost of living, schools, health care, recreation, and weather. Cities, suburbs, and towns were included. Listings and images are from
realtor.com
.
On the list, there's a robust mix of offerings from great schools and nightlife to high walkability and public parks. Some areas have enjoyed rapid growth thanks to new businesses moving to the area, while others offer glimpses into area history with well-preserved architecture and museums. Keep reading to see if your hometown made the list.
READ ON: See the States Where People Live the Longest
Read on to learn the average life expectancy in each state.