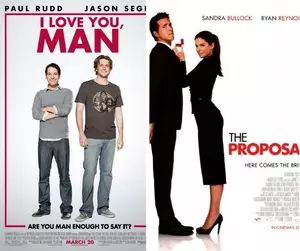 MIM Move Review: "I Love You, Man" & "The Proposal"
DreamWorks/ Touchstone Pictures
This week Johnny Marks and Tiffany Kay exchanged "wedding" movies, although one is real and one is fake they still had many similarities.
Johnny Marks gave Tiffany Kay, "I Love You, Man" starring Paul Rudd and Jason Segel. In this movie, Peter Klaven's world revolves around his real estate work and Zooey, his soon-to-be fiancée. After he pops the question, she calls her best friends and they go into wedding planning mode. Problem? Well, Peter has no male friends which means he has no best man.  Zooey decides to help find him a best man but this results in more awkward moments than in any positive results. However, at an open house Peter's hosting, he meets Sydney who seems like a cool dude. They end up meeting for drinks and it seems like Peter has officially made a male friend and his "best man" crisis could be averted. Except this friendship starts to threaten his relationship with his fiance.
Tiffany Kay gave Johnny Marks. "The Proposal" starring Sandra Bullock and Ryan Reynolds. In this movie, book editor Margaret Tate fears deportation back to Canada because her visa is expired. So to save herself, she says she's engaged to marry Andrew Paxton, her assistant. Andrew agrees to the charade, but gives a few conditions of his own, including flying to Alaska to meet his  family. With a suspicious immigration official always lurking nearby, can Margaret and Andrew pull off the charade or will they start actually falling for each other?
To see their review and how many popcorn kernels they gave this week, check out the full video below!