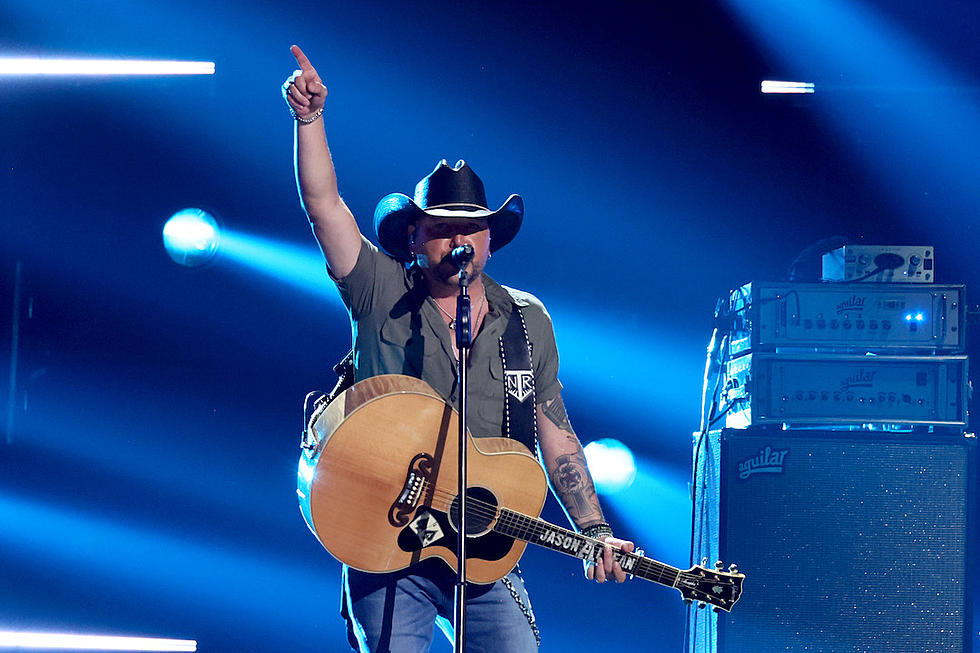 Jason Aldean Is Making a Big Change on His Next Album
Theo Wargo, Getty Images
Ten albums in — and counting! — Jason Aldean knows how important it is to keep things fresh when it comes to new music. So, he's constantly working to try new things and different approaches in the studio, and as he works on his next project, that means spending a little bit more time in the songwriter's room.
"[I] started jumping into the writer's chair again a little bit, and got a few things on this album that I wrote. Some really cool stuff, man," Aldean tells Taste of Country Nights.
For reference, his last album — a double project called Macon, Georgia, which he put out in 2022 — doesn't include any songwriting credits from the star, despite the fact that there's a whopping 30 tracks total on the project. In fact, Aldean hasn't written any of the songs on his albums since 2009, when he co-wrote a song called "Keep the Girl" for his third studio album, Wide Open.
That was a rarity, even at the time: Aldean co-wrote three songs on his 2005 studio debut, but none on his second album, meaning that he's only had songwriting credits on four tracks he's recorded, across all 10 of the albums he's dropped to date.
It's not that he can't write songs. Aldean actually originally moved to Nashville as a songwriter, signing a publishing deal with Warner-Chapell in 1998. Last year, the singer explained that he's simply a perfectionist.
"My problem was always and still is — it's not that I don't write or can't write. I'm just a perfectionist," he detailed.
But Aldean says his songwriting efforts have been productive during this album cycle, and he's "excited" for fans to hear the results sooner rather than later.
"We got about nine songs finished already for the album, and we're actually gonna go back in and do I think one more session," he tells Taste of Country Nights.
"We'll probably cut five more songs, and [we're] looking at it coming out sometime later this year. I think we're eyeing the fall right now," he relates.
Fans have already gotten to hear a couple of tracks that will be included on the new project. Aldean debuted "Tough Crowd" at the 2023 ACM Awards, and he followed that up with the release of his next album's first single, "Try That in a Small Town."
See Inside Jason Aldean's Spectacular Florida Beach House
Jason Aldean
's beach house in Santa Rosa, Fla., sits right on the Gulf of Mexico.
Aldean paid $4.1 million for the new 5-bedroom, 5-bathroom, 4,452-square-foot beach house. The spectacular property affords the singer and his family the opportunity to walk out their back door and down a bridge to their own private beach, and the exterior of the villa features a courtyard with iron gates that includes gas lanterns, a swimming pool and a fountain.
The home's interior includes a downstairs with an open floorplan and oversized windows, chiseled stone floors, a gourmet kitchen, a bedroom and study and a fireplace, with coffered ceilings throughout. The upstairs of the home includes two separate master bedrooms that both overlook the Gulf, as well as two more bedrooms that each have their own attached bathrooms.
The stunning home is also set for whatever weather might blow in from the Gulf. Built in 2005, the house features all-impact windows and doors, as well as Geo-Thermal heating and cooling, cellulose insulation, foam ceiling and floor insulation and more.
Top 50 Jason Aldean Songs: His Greatest Hits + Best Deep Cuts
The best
Jason Aldean
songs are spread out among his 11 studio albums. Find singles and deep cuts from his self-titled debut album high on this list, right alongside more recent hits and duets from
Macon
and
Georgia
.
Taste of Country asked readers for input and did a deep dive into Aldeans' full catalog of songs to identify those worthy of this top songs list, and those that simply aren't. Spoiler alert: A few radio singles are missing, and several album tracks rank inside the Top 20. Sales and chart success helped us round out the Top 50. Do you agree with No. 1?