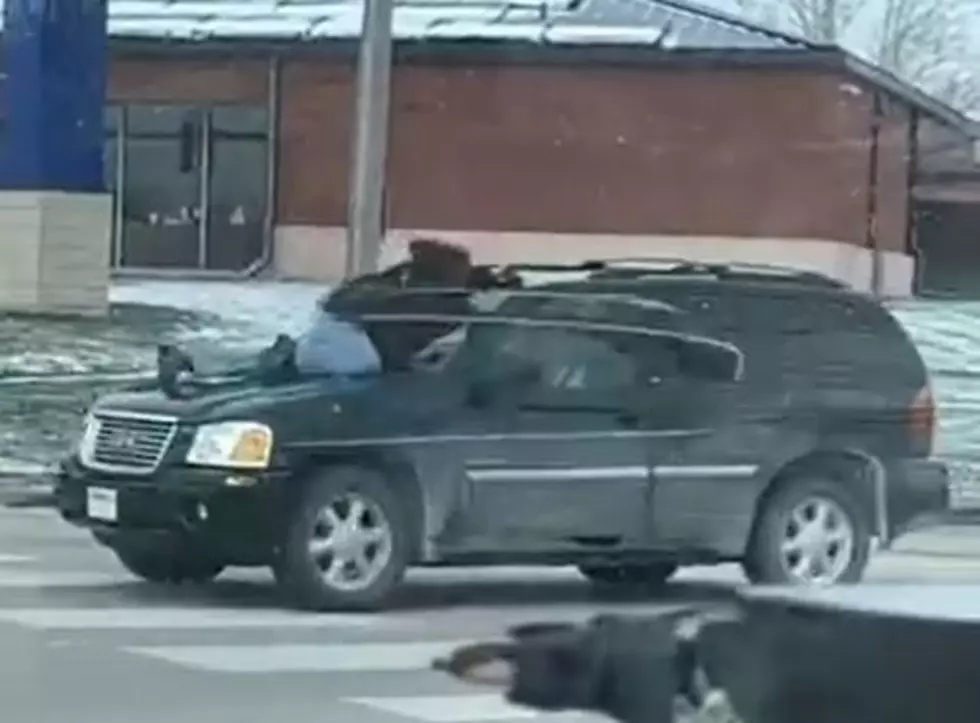 Cedar Rapids Scene Is Something Straight Out Of Grand Theft Auto [WATCH]
Brandt Wieser via FB
A strange sight in Cedar Rapids is making the rounds on social media.

After watching .0005 seconds of this video, I had a feeling that the people in it could only be from Iowa. And I was right!
On Friday, November 18th Brandt Wieser shared a video that proved that Iowa has some interesting characters. In the clip that Wieser shared, a woman is driving around the west side of Cedar Rapids, right along F Avenue NW with a passenger.
This passenger isn't sitting in the passenger seat, he's on top of the hood of the vehicle and it appears he's trying to stop the car or at least get inside. He's banging on the windshield and is quickly sliding down the front of the car.
From what witnesses are sharing on Facebook, it looks like this might have been a case of motor vehicle theft. Some people were claiming that the woman driving actually stole the vehicle from the man on top of the car.
One woman on Facebook, claimed to see a lot of this strange scene.
"They were driving next to me when they turned on to Edgewood....WTF. I made it to the church parking lot and called 911..." the woman wrote, "Police found him on foot and put him in the car....and off he went."
If you have any knowledge about what happened, make sure to reach out to us. We will continue to keep you updated as more information about this incident comes out.
You can watch the video down below!

Snake Alley in Burlington, IA
Burlington, IA is just one hundred and fifty miles away from Waterloo and a hundred miles away from Cedar Rapids is one of the most see attractions for tourists. Ripley's Believe It or Not! voted Snake Alley as the #1 Odd Spot in America.
Bridegerton-Esque Cabin Mansion In Waterloo
You can live like you're living in your own English regency drama in this Waterloo Cabin Mansion. This is the diamond of the season in the real estate world.